As you know, I have very strong feelings toward throwing out produce that is past its prime. I work very hard to buy only what we can eat because the feeling of tossing it in the garbage sends me into a bit of a rage.
So when I had half a dozen apples that were too squishy to eat, (who likes a squishy apple?) I had to find some way to save them from the unfortunate fate of the garbage can.
Enter apple butter.
I peeled, cored and sliced up the 6 apples and threw them in my crockpot with 1 tablespoon of cinnamon and a 1/4 cup each water, brown sugar and white sugar.
I put the lid on, turned it on low, set a timer for 4.5 hours and walked away.
I did peek in a few times over those 4.5 hours and give it a little stir, but I wouldn't have had to. (You want to make sure the apples stay moist, so if they look dried out, add a bit more water)
The whole house smelled like apple pie…it was wonderful.
After the time was up, I poured everything into my blender and gave it a puree. I poured it into a freshly washed (with hot soapy water) canning jar and put the lid on. The heat of the apple butter will seal the jar for you (I was reading that you can process your jars to heat seal them but lots of people don't)
The Verdict- This tastes like apple pie butter. It has the consistency of a very thick applesauce and a beautiful rich brown color. You could put this on bread, pancakes, waffles, french toast, pork chops…a spoon….it is delicious.
No on to what we are eating this week!
| | | | | |
| --- | --- | --- | --- | --- |
| Monday | Tuesday | Wednesday | Thursday | Friday |
| Roasted Veggie Taquitos | General Tso Chicken | Burgers and Salad | Frozen Pizza | Feezer Surprise |
Grocery List:
Frozen Pizza
Your favorite burgers, buns and toppings
Your favorite salad fixings
Red onion
Green pepper
Grape tomatoes
Mushrooms
Corn
Olive oil
Black beans
Cream cheese
Cheddar cheese
Diced green chilies
Chili powder
Garlic powder or minced garlic
Cumin
Small tortillas
Chicken breasts
Rice
Stir fry veggies
Cornstarch
Hoisin sauce
Soy sauce
Rice vinegar
Sugar
Monday
I found a new meatless Monday recipe for us to try. I'm hiding all those veggies in lots of cheese!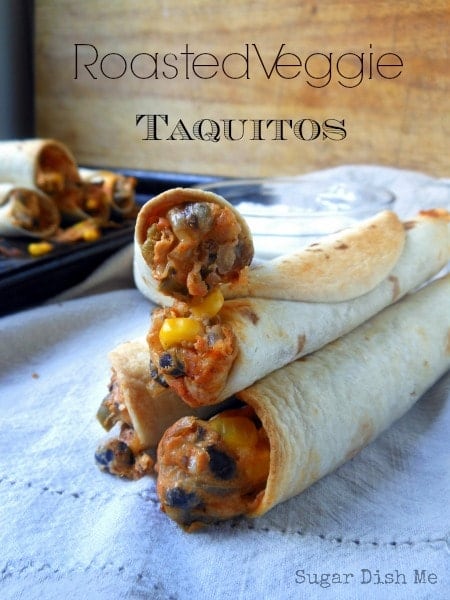 Tuesday
This was really good the last time I made it. Plus, I can throw it in the crockpot and it will be ready when I get home!
Wednesday
We didn't get to our burgers last week so they are following us over to this week. Pulled the BBQ out this weekend so we are ready to go.
Thursday
I know, I know, frozen pizza night is usually Friday. But I have a meeting at school and Andrew has to be somewhere right after supper so frozen pizza seemed like the easiest choice.
Friday
Our freezer continues to be very full of stuff that I bought thinking we would eat it or leftovers that I threw in there and completely forgot about. Tonight we will do our part to start cleaning it out!