We had a great Christmas break…and I hope you did too! But all those late nights and long sleep-ins did not serve me well this week when the alarm went off at 5:30am. It was a week of progressively harder mornings and earlier bed times. (for those of you who know me well, you must be wondering how it is even possible that I go to bed EARLIER…)
The kids feel it too. The first few days at school, everyone just walks around with a sort of sleep-stunned look on their faces, and work happen a whole lot slower. By the end of the week we were back in the swing of things, but it took us a few days. I had one little girl say to me on Friday, "Mrs. Skinner, I just wanted to stay home today, but my dad said no. I'm just soooooo tired!"
When kids are tired like that, all logic and reason goes out the window. They forget everything we have taught them, there are lots of tears and some strange looks….and you get some funny answers.
My friend was reading with a student and they were working to sound out the word CHORE. It went a little something like this:
Teacher-"Ok, let's chunk the sounds that we see."
Student- "ch-ore, ch-ore, ch-ore…Chuck Norris?"
Teacher- "Nope…not Chuck Norris, but good try. It's chore, ch-ore."
…what can you even say?..
Here is what we are eating this week:
| | | | | |
| --- | --- | --- | --- | --- |
| Monday | Tuesday | Wednesday | Thursday | Friday |
| Kung Pao Chickpeas | Tuna Melts | Honey Garlic Chicken Thighs | Lazy Stuffed Peppers | Frozen Pizza |
Grocery List:
2 cans chickpeas
Soy sauce
Rice wine vinegar
Kung pao sauce
Lime juice
Honey
Vegetable oil
Cornstarch
Rice
Ground beef
Onions
Peppers
Diced tomatoes (small can)
Tomato sauce
Chicken or beef broth
Chicken or beef bouillon
Worcestershire sauce
Italian seasoning
Cheese
Bread
3 cans tuna
Mayo
Lemon juice
Green onion
Chicken thighs
Garlic
Ketchup
Oregano
Parsley
Sesame seed
Stir fry veggies
Monday
I've taken stock of my pantry and I am working hard to rid it of all the things that I keep buying that I already have lots of…chickpeas is one of them! And since we love this dish so much, it was not a hard sell.
Tuesday
We have a new waffle iron that doubles as a pocket sandwich maker…and I love a good melty, cheesy sandwich! These remind me of hanging out with my friend Heather…we used to make sandwiches like this at her house all the time!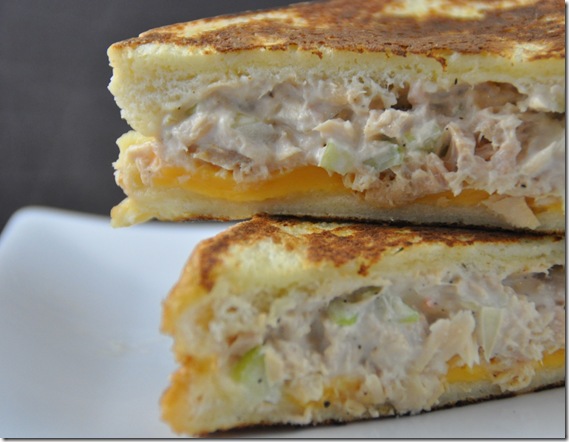 Wednesday
A new crockpot recipe to try! Since we are always well stocked in honey, thanks to my sister and brother-in-law, this meal was a perfect choice! If you are every in need of honey, check out Clover Grove Honey.
Thursday
I asked Andrew what he would like to have for supper this week and his first response was "Lazy stuffed peppers". Easy. And this recipe makes a lot, so we can eat it well into the weekend!