The last few weeks have been incredibly busy and I have done very little cooking. While we were in Nashville we ate out (and not very healthy I might add…) and while we were in Banff I indulged in a few too many lattes and ate my fair share of food as well.
Back to reality this next week….at least until Easter. (Oh man, I have got to get things under control or my pants will never fit again!)
I am going to try to keep the meals this week easy and as healthy as possible.
Here is what I am thinking:
Monday- Pineapple Meatballs and Salad
Tuesday- Chicken Noodle Soup
Wednesday- Broccoli Salad
Thursday- Leftover soup and salad
Friday- Frozen pizza
Grocery List:
bread crumbs
milk
eggs
onions (red and white)
garlic
ground ginger
ground beef
canned crushed pineapple
brown sugar
white vinegar
soy sauce
cornstarch
bagged salad
chicken breast
chicken broth
carrots
celery
thyme
bay leaves
egg noodles
plain Greek yogurt
pecans
red grapes
1 head of broccoli
bacon
farfalle pasta
Monday
This is a good standby recipe. It will be ready when I get home from school and, instead of serving it over rice (which tastes so good…) I am going to just make a salad to go with these.
Tuesday
I love soup and I especially love this chicken noodle soup recipe.
Wednesday
Ok this SOUNDS healthy….as long as I limit the bacon. I must limit the bacon…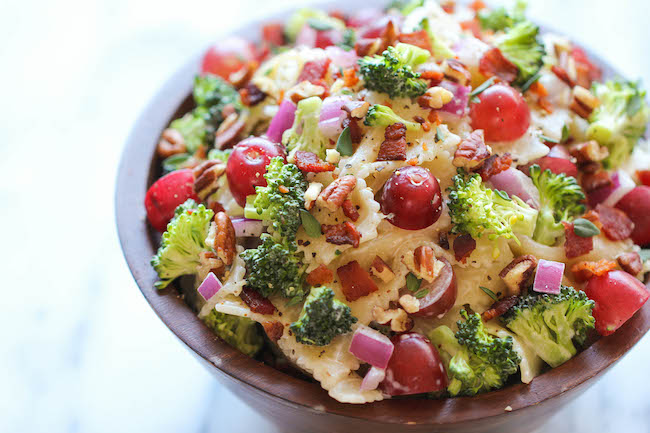 Thursday
I made soup last week too, so between the chicken noodle soup this week and the vegetable soup last week, we should be covered