Teaching Elementary Art always brings a mix of excitement and full on terror. The key to teaching Art is planning and structure….or else everything falls apart QUICKLY. Over the years I have come up with a variety of Art projects that I can teach easily with great results. My friend Angie, who is definitely the free spirit of our pairing, is far better at experimenting and branching out than me. She has been sending me Art projects that she is trying and it has inspired me to give them a try too.
So on Friday afternoon, I took a deep breath, prepared as much as I could and we made finger paint snow globes.
The kids LOVED making these! And they are going to look great on the wall as we prepare for our Christmas concert.
I've decided that my meal plans need to include the following:
1 vegetarian meal
2 new recipes to expand my recipe collection
2 old favorites so I don't forget about all the great things I have made over the years
So that is exactly what I have planned for this week!
| | | | | |
| --- | --- | --- | --- | --- |
| Monday | Tuesday | Wednesday | Thursday | Friday |
| Lazy Stuffed Peppers | Easy Zuppa Toscana | Tuscan Chicken Stew | Coconut Curry Chickpeas | Frozen Pizza |
Grocery List:
ground beef
4 sweet peppers
Onions
Minced garlic
Diced tomatoes
Tomato sauce
Beef broth
Beef boullion
Worcestershire sauce
Italian seasoning
Rice
Cheese
Ground corriander
Red curry paste
tomato paste
coconut milk
Chicken broth
Kale
Gnocchi
Italian sausage
Roasted red peppers
Butter
Chicken thighs
Carrots
Celery
Tomatoes
Baby potatoes
Fennel seeds
White wine or more chicken broth
Cornstarch
Balsamic vinegar
Rosemary
Parsley
Monday
We enjoyed this meal so much last time I made it that I had to make it again. I will most likely freeze the leftovers because it makes so much!
Tuesday
My mother in law makes a delicious Zuppa Toscana soup in her slow cooker. I found this simple 7 ingredient recipe and thought I would give it a try.
Wednesday
I have a meeting after school on Wednesday which means I won't be home as early as I would like. So on a night like that, I love to use my slow cooker! This has been sitting in my Pinterest recipe board for a long time. It seems like I good time to break it out.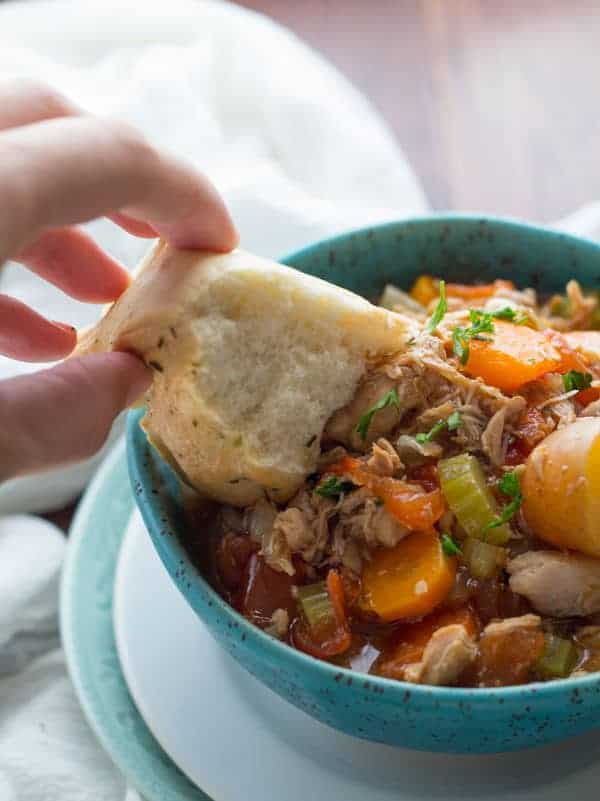 Thursday
Here is our vegetarian meal for the week. This is so good and so easy!