One of the many benefits of living in the U.A.E. is the ability we have to travel to places that, from home, would need far more time than a teacher's schedule could afford during a school year.
Never would we have had the opportunity from Canada to spend a long weekend in Rome. So when my family began planning the second leg of their world travels, Andrew and I decided we could not pass up the opportunity to join them.
It was a whirlwind 3 day trip, but we are so thankful that we could go and spend more time with my family and see some incredible sights.
Here is how we spent our 3 days in the eternal city.
We chose an early morning flight to maximize our days in Rome. We flew AlItalia and were so pleased with the service during our flight. Because it was low season, the plane was not full which meant extra space to get a little sleep before we landed. They fed us well (something I am realizing happens on flights everywhere but Canada and the US these days) and kept us comfortable on our 6 hour flight.
Once we cleared customs and collected ourselves we started out to the taxi line all steeled up to barter and fight with the taxi drivers we had heard would try to rip us off if they could.
The deal with Rome taxis from the airport is that there is a flat rate for rides inside and outside the Aurelian wall. Contrary to what is sounds like, there is no actual wall. (we asked our taxi driver on the way to the airport…typical tourists is probably what he thought)
So from the airport to the Piazza Navona (inside the Aurelian wall) should be a flat 48 euros. We were told, DO NOT get into a taxi until you have agreed on the price…so I was ready to fight for our fare.
We were pleasantly surprised to see a well organized taxi system that had drivers look at me weird when I checked the price. He pointed at the side of a taxi and said "Si!, Si! 48 euros." And off we went for our 45 minute drive from Fiumicino airport to the Piazza Navona.
Now I'm fairly used to aggressive, fast driving since moving to the U.A.E., but the driving in Rome was on another level. The streets are small and crowded and the driving is FAST. At one point our taxi driver swerved into the tram lanes which I am hoping taxis are allowed to drive in. We drove down streets that were wide enough for one car and that, at home, we would consider a back alley. When he dropped us off at our destination, I was relieved and so thankful we didn't have to drive anywhere else till we needed to head back to the airport.
We toured around the Piazza Navona and found a quaint corner cafe for breakfast. We had coffee, pastries and the most delicious fresh squeezed orange juice I think I have ever had. It was at this point that I knew Rome and I would get along well…
My sister, the planning whiz, found us a beautiful Air BnB right in the heart of Rome, steps from all the sights we would take in over the next 3 days. Angela and Kevin took incredible care of us and we loved our accommodations. If you are ever looking for a place in Rome, check out Romanitcasa Navona.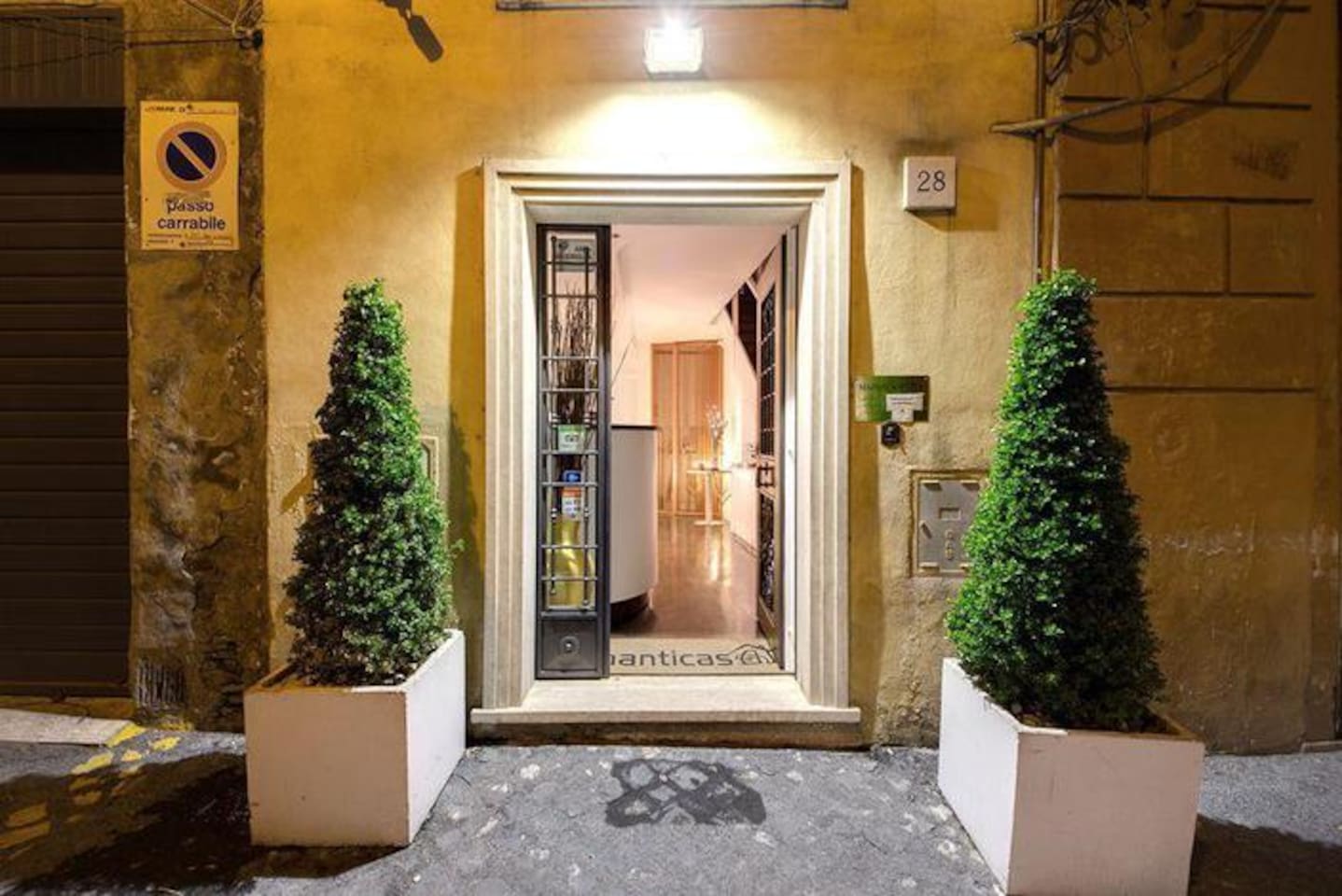 We dropped our stuff and immediately started exploring. What amazes me is that every street looks smaller than last but if you wander down what looks like a dead end or back alley, you will come across a plethora of shops and restaurants.
On our first day we saw the Castel Saint'Angelo, St. Peter's Square, The Spanish Steps and the Trevi Fountain. We walked 15 kms (mostly on cobblestone) and ate incredible pizza.
For dinner that first night, we wandered around a few corners from our house and found a little restaurant all lit up filled with locals. We figured that was a good sign and headed inside.
Now I didn't know that for Italians, meals are a many course, multiple hour affair. You don't often see people go in, order a pasta dish and then leave. There is antipasti, pasta, meat dishes and then of course, dessert. So needless to say, they look at you a little weird when all you order is pasta. But what incredible pasta it was!
Ever since Andrew had watched Anthony Bourdain's No Reservation episode on Rome, he was dying to try Cacio E Pepe. A simple recipe of pasta, cheese and pepper. He found it on the menu and his choice was made. I had a smoky salmon pasta and Liz and Mom had a bacon/asparagus pasta. It was an incredible meal! I could barely finish my pasta, but luckily I have Andrew who will always take one for the team and finish anything I can't eat. We were too full for dessert, but that didn't compute for our waiter. He brought us a plate of biscotti cookies anyways. We couldn't be rude…so we ate one or two.
Now if you know my family, you may be wondering where my brother in law was during this meal. Matt is Italian and he has been to Rome a few times before. He was looking forward to this part of his trip since he landed in the U.A.E with us. But unfortunately, Rome seems to hate my brother-in-law. Matt was sick the last time he was in Rome and this trip was no different. He was suffering from a severe head cold and all he wanted to do was sleep. Food didn't have any taste (the worst thing that could happen to you in Rome) and once his head cold started to clear he had an allergic reaction to some mushrooms on a piece of pizza he ate.
Matt just wanted to hold Rome's hand, and she kept slapping it away.
Day 2 in Rome included a full day in the Vatican Museums and St. Peter's Basilica.
On the last Sunday of every month, the Vatican Museums are free for visitors. We decided to buy our tickets for the Saturday before, and we are glad we did! It allowed us to skip the lines and go right in. I can't even imagine how long the lines would have been on the free Sunday.
We chose the audio tour which I would highly recommend. You can listen to as much or as little of the tour you would like. It gave lots of information about all the incredible things you get to see…which is good because after yet another wing of amazing paintings and statutes you begin to get desensitized to the grandeur of it all.
We found another gem of a restaurant around the corner from our place called La Campana. This restaurant claims to the be oldest restaurant in Rome.
Our first impression of the restaurant was not the greatest- when you walk in and the waiter asks if you have a reservation..the sighs a HUGE sigh when you say no…you kind of feel like you are putting them out. Thankfully they squeezed us in right close to the kitchen and I had probably the best eggplant Parmesan I have ever had.
Day 3 we saw the Pantheon and Colosseum and had the opportunity to hear the Pope speak in St. Peter's Square.
Though everything he was saying was in Italian, it was an amazing opportunity to be there, hear him speak and receive a papal blessing.
Our final dinner in Rome was at a restaurant that claims to have invented the recipe for Fettuccine Alfredo. Now it was this night that we decided to eat like true Italians.
We had antipasti (cheese, meat, bread and various other goodies on an appetizer like platter)
Pasta dishes including the famous fettuccine Alfredo that is mixed at your table.
Meat courses-which we inhaled too quickly to get a picture of…
And who could pass up dessert?
Though our stay in Rome was short, it was jam packed full of wonderful sights and food. We loved it and hope, one day, to get back and explore the rest of Italy and all it has to offer.