I heart gnocchi….
If you have never had it imagine little, soft, cloud-like pillows of potato goodness.
Yes, doesn't that just sound amazing?
Then cover them with pasta sauce and cheese and bake until golden and bubbly…
Even better…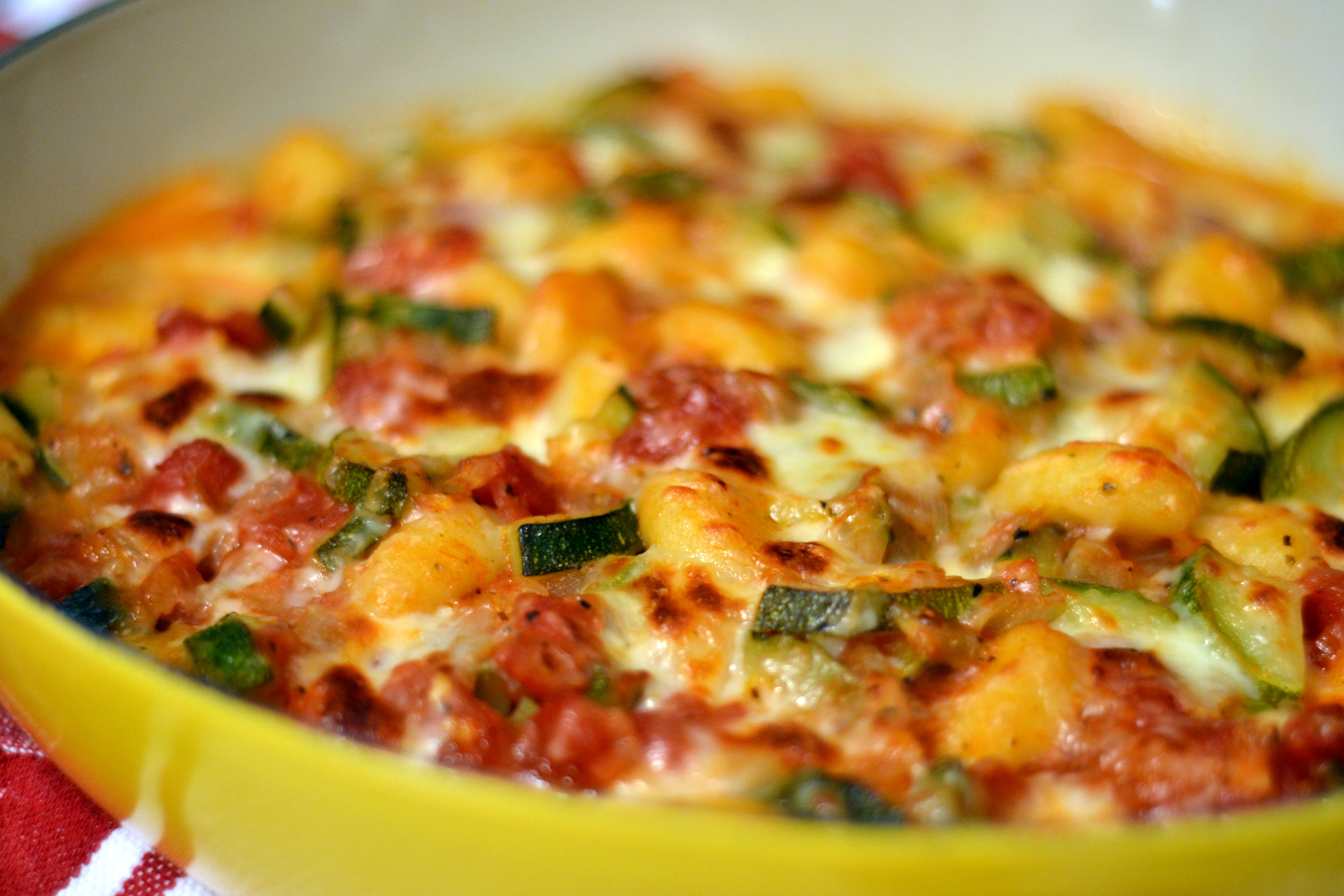 To start this recipe I cut up an onion and some zucchini until I had about 3 cups.
In a large saute pan (my new large saute pan that I got for Christmas…) I sauted some garlic and the onion in olive oil until they were softened.
I added in the zucchini and the tomatoes, gave it a stir and a cover. I turned down the heat a bit and let it bubble away while I cooked the gnocchi.
Before I added the gnocchi, I added salt and pepper to the zucchini mixture until I was satisfied with the flavor (I used rosemary salt because it just tastes so good…). Once the gnocchi was cooked, I added it to the tomato/zucchini mixture and gave it a good stir. I let it cook for another minute or two.
I transferred half to a glass baking dish and layered in a little cheese. I may have gone a little cheese-happy…I had some leftover feta, Parmesan and mozzarella so just used a mixture of all three. Then I poured the rest over top and covered it with some more cheese (yummy…)
I baked it at 350 degrees for 25 minutes and broiled it until the cheese was golden and bubbly.
The verdict- This dish makes me feel sad for my friends who cannot each cheese…
What's not to like here? Cheese baked with pasta….its a total no brainer. This is super delicious and I really, really love it. As a side note, if you do not have rosemary salt, you should make some…it makes everything taste better. Thank you Teresa! Your gift just keeps on giving.