My mother in law is an incredible cook. She treats us to delectable meals often and Thanksgiving is no exception.
I figured, this year, I would help her out and bring dessert so she had one less thing to worry about for our meal. Plus I had been looking on Pinterest at all the delicious pumpkin desserts that everyone was posting. What would Thanksgiving be without pumpkin something?
I decided on pumpkin cream cheese dump cake because it seemed like a delicious and easy dessert. I was right on both accounts.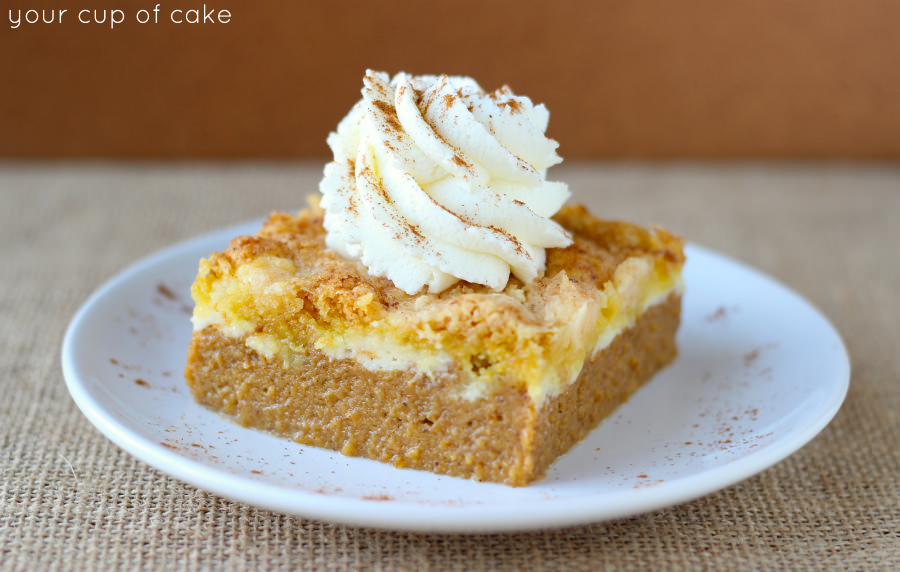 I started by mixing up the bottom pumpkin layer:
29 oz of pumpkin puree
1 can of evaporated milk
3 eggs
1 1/4 cups of white sugar
1 teaspoon salt
1 tablespoon of pumpkin pie spice
I poured it into the bottom of a greased 9×13 pan.
Next I mixed up the cream cheese layer by mixing 8 ounces cream cheese, 3/4 cups powdered sugar and 2 tablespoons of milk in my stand mixer until it is creamy and smooth.
I scooped all that cream cheesy deliciousness into a ziploc bag and cut the edge of it for a make-shift piping bag. I piped the cream cheese mixture over top of the pumpkin mixture.
Then I dumped a box of dry white cake mix over the top of that. I used a chopstick and poked holes through the cake to the pumpkin layer. (But not right down to the bottom of the pan)
I poured 1/2 cup of melted margarine over the entire cake.
Lastly I mixed up 1 tablespoon of sugar and 1 tablespoon of cinnamon and sprinkled it over the cake.
The original recipe said to bake the cake for 40-50 minutes at 350 degrees or until a knife inserted into the middle came out clean. For me, and my oven, that was more like 70-80 minutes.
The verdict- This was a delicious, dense, rich cake. There was easily enough for the 8 of us and we still had a 1/3 of the cake left. This would be great for a potluck or dinner for a crowd. Other than the baking time, this cake mixes up quickly and is very simple to put together.